Landscaping and infrastructure development
Modern landscape design is a an exclusive and ergonomic space created in unity of natural and architectural forms.
VII MIRACULA architectural studio adopts complex approach towards designing perfect living space and outdoor territory of the country residence. We do landscaping and greening taking into consideration characteristic features of a particular location. Our scope of work also includes installing drainage systems, setting gardens lighting and creating small architectural forms.
We perform pre-design works. We lay fertile topsoil, shape artificial landscape and plant a lawn on the territory. The best time for establishing a lawn is spring or autumn;
We project irrigation systems optimal for chosen type of lawn grass and other plants. We can envisage manual watering or introduce an automated system. We perform turnkey works starting with selection and purchase of equipment ending with set-up and commissioning works;
We set out plants in strict accordance with the previously approved planting plan. We choose plant varieties that not only meet the customer's requirements, but also easily take root in local climate conditions. Besides, we create compositions with ornamental plants.
We clear the working area, mark the directions of alleys and prepare the trench. Then we put a layer of sand and grit, install stone slabs. Nuances of technology depend on the material of slabs, relief, soil and design project;
We plan the arrangement of garden lighting. We either hide electrical lines or turn them into architectural elements, so that they wouldn't spoil the view;
If there is a risk of washing-out of house foundation or flooding after spring snowmelt or heavy rains, we install drainage systems and storm water drainage system without fail.
VII MIRACULA architectural studio sphere of activity includes constructing retaining walls, building garden pavilions, decorating ponds and creating small architectural forms made out of art-concrete.
We have extensive experience in completing projects of different complexity: improvement of private territories, country residences and public areas — country clubs, park zones, the territory of the cottage villages. Team of VII MIRACULA architectural studio takes individual approach towards every project. We meticulously work out unique landscape solutions with the use of architectural concrete.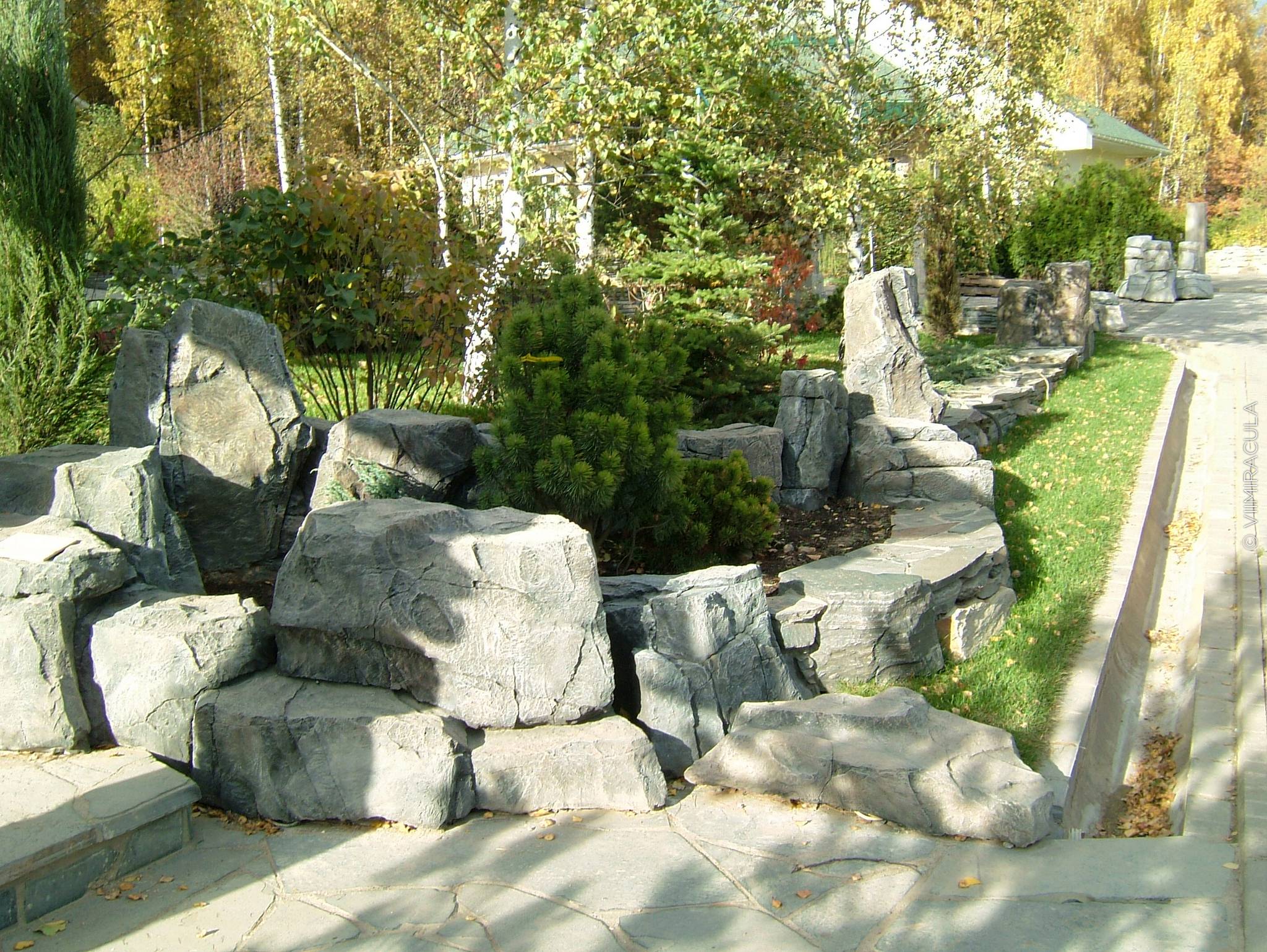 Project in country residence
Natural pond was the central part of this location. The customer wanted to harmoniously combine the pond and the rest of the territory. We have strengthened the pond's bank with art-stone in order to prevent coastal erosion. We have beautified the lawn near the pond with two large rocks. They serve as decorative elements near the entrance to the wine cellar and outdoor shower.
Another landscaping project in the private residence
The customer wished to have waterfall with a pond, tea house, garden pavilion and patio area. All these decorative elements are closely intertwined in aesthetically integral composition. Brook, that bends around the garden pavilion in the style of Ancient Rome architecture, flows from artificial pond. We have placed tea house above the artificial pond. Supporting pillars were designed in the form of mangrove trees. You can easily reach the tea house via a small bridge.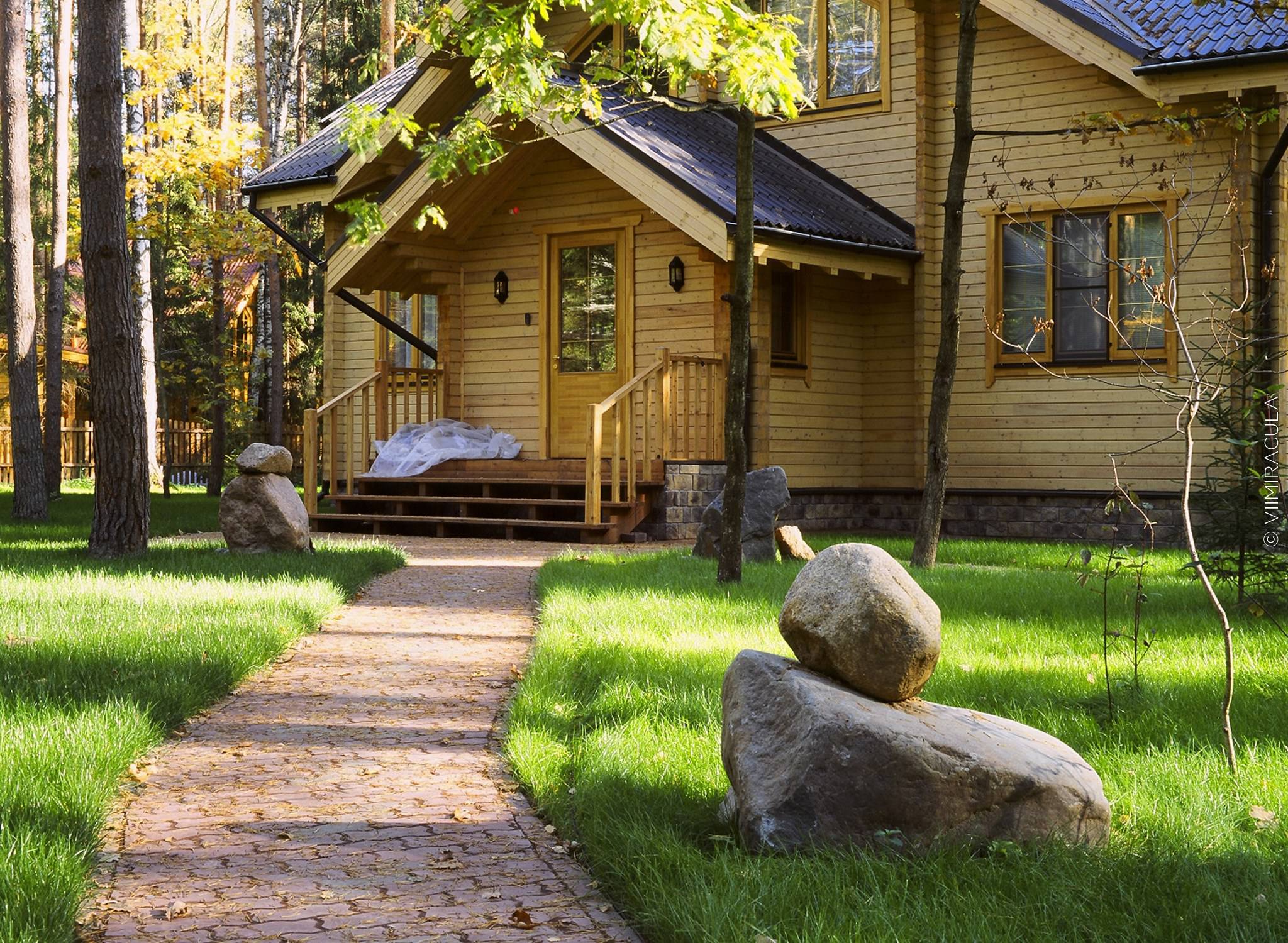 Landscape design of a residence on a hill
The complexity of the project consisted in the location of the residence. Despite the fact that the relief was hilly, it was important to arrange convenient access for cars, so that we wouldn't have to transfer car entrance to the second floor. In order to solve this problem we have removed considerable amount of ground to deepen to the level of the first floor. We have decorated multi-layered territory with a number of retaining walls made out of architectural concrete. To ensure convenience of movement we have installed several art-concrete stairs. The composition was amplified with a waterfall.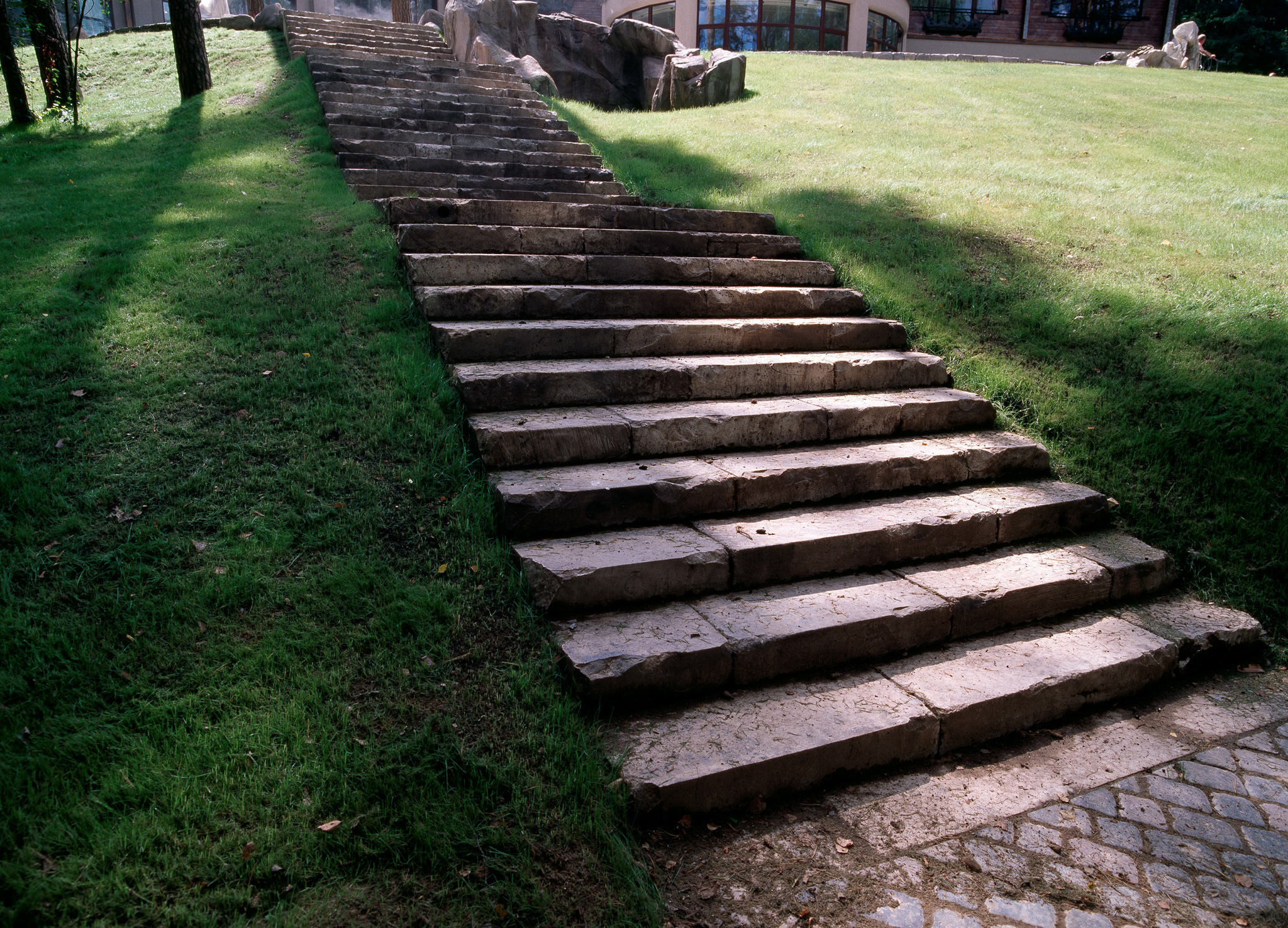 Greening of the territory is just a small part of required works. Garden pavilions with barbecue areas, grottoes, covered in ivy, artificial ponds and waterfalls can turn the location into a comfortable zone of total relaxation.
Many art-objects require engineering decisions and installation of utility systems. That is the reason why it's crutial to take all the details into consideration at the project stage and accurately plan the sequence of work execution.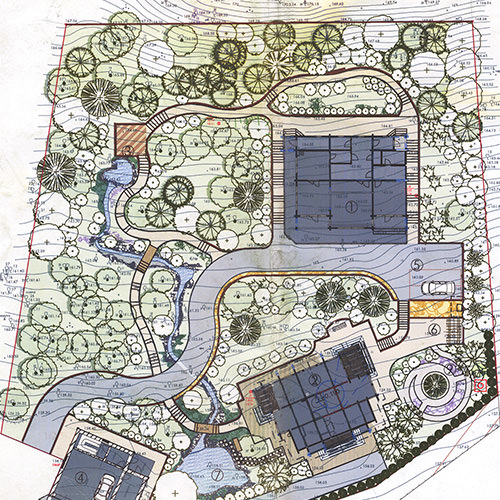 Preparation of design options
We hand-draw artistic sketches and work out the scheme of required utility systems and necessary planting plans on an individual basis.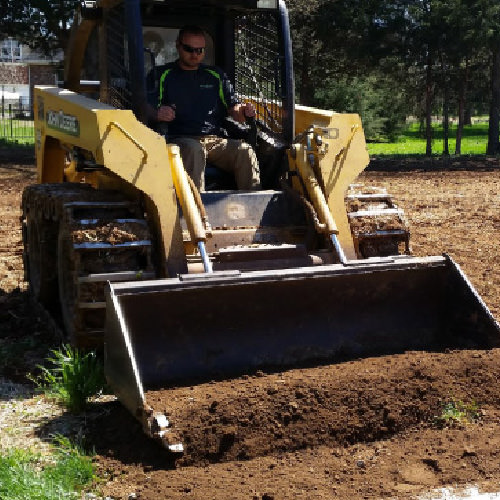 Preparation of the territory
We conduct preliminary soil analysis, install drainage systems and storm water drainage systems and shape the relief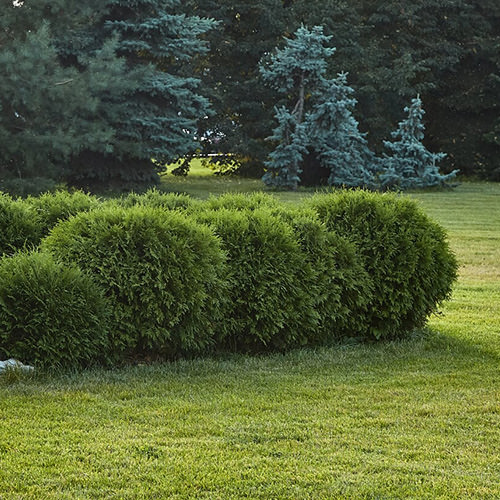 Greening
We establish lawns, bed out species of plants perfect for the particular type of soil. We select them in best nursery-gardens of the country.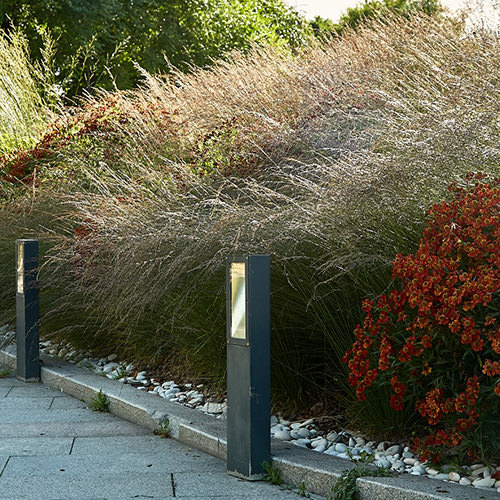 Landscaping
We lay garden paths, perform terracing, install lighting and irrigation system. We work with engineering systems made in leading European companies.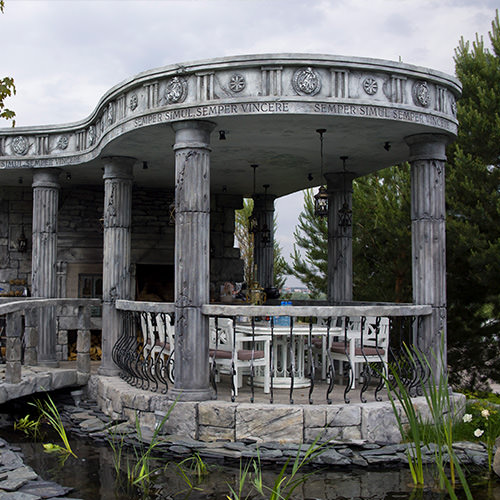 Architectural objects
We can create artificial ponds with waterfalls, fountains, garden pavilions and patios. We use building materials of our own make. We have a team of highly qualified experts who create unique pieces of art.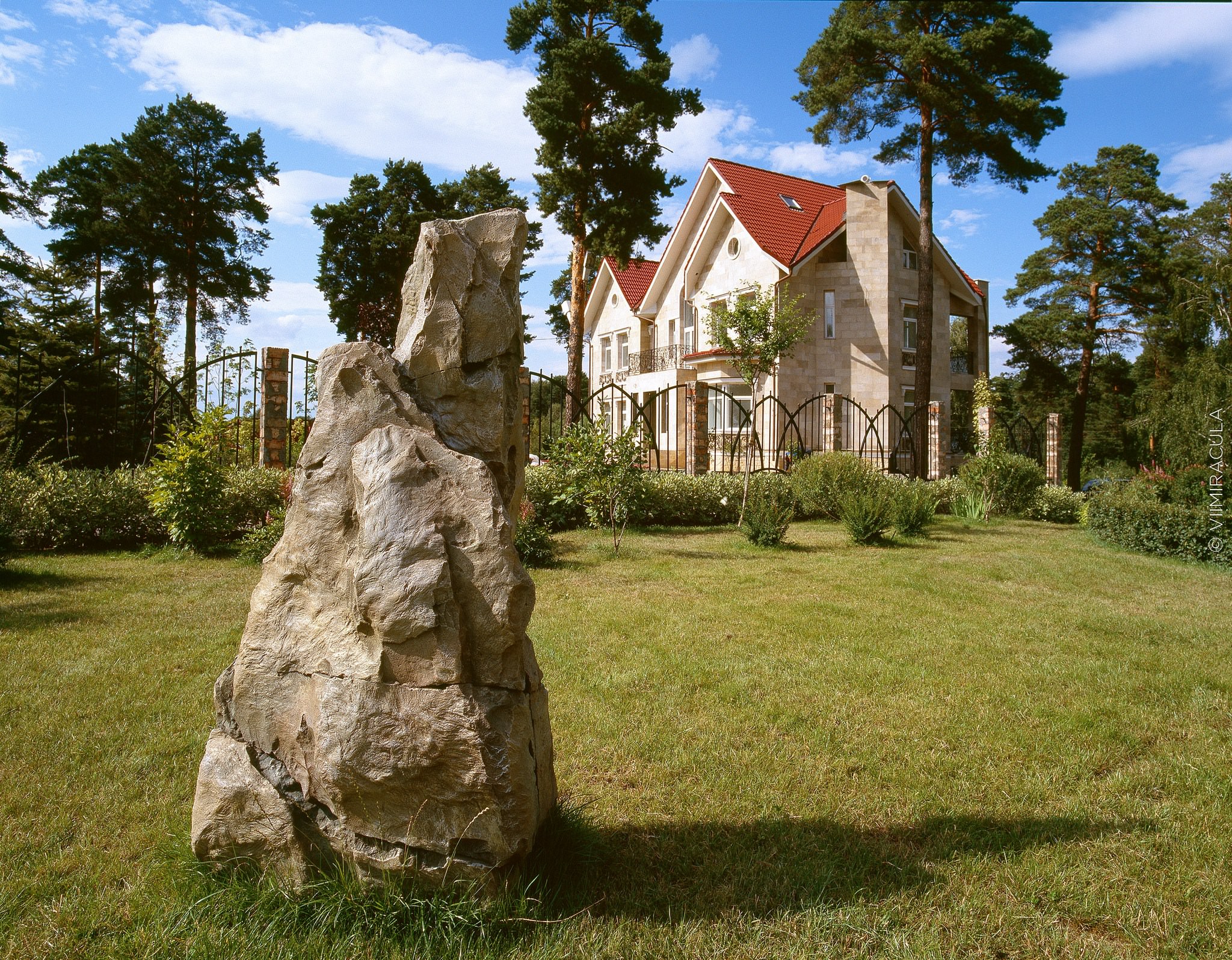 Do you want to ask about your project?