Detailed and comprehensive work on rock's relief
VII MIRACULA architectural studio build concrete rockeries and stones that fully repeat the relief of wild stones, due to the unique characteristics of the building material. For the working process we use architectural concrete. It is a one-of-a-kind thing that enables our sculptors to create outstanding pieces of art.
What makes our objects indistinguishable from natural rocks is a diligent elaboration on the smallest details of the stone. The unity of commitment and love for nature empower our team to achieve the best possible results.
Art-concrete rocks are a complete imitation of natural objects in terms of texture, shade, relief , «cracks» and chips. All these nuances are carved out by hand. In the photo there is a part of artificial waterfall of the private residence.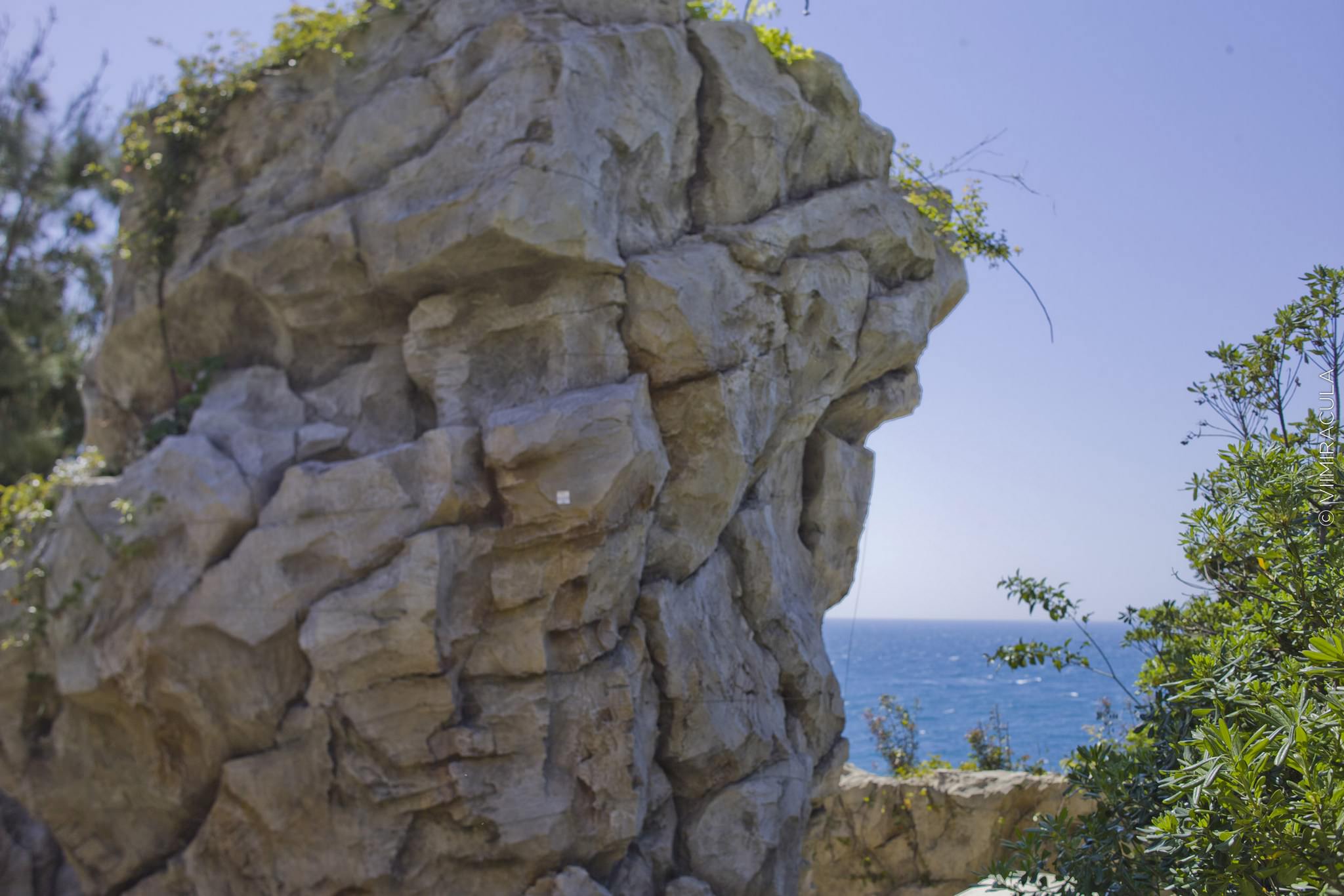 We work both with retail clients and big established companies (e.g. hotels, amusement parks and parks). What concerns the durability of artificial stones, they are as good as natural rocks , in some cases they may be even more durable due to the armoured framework that lies in the foundation of the construction. Artificial rocks can fulfill several different functions. They may add a more natural touch to the location, divide the area of a resort into separate zones or draw the border line between two adjacent residences.
Artificial rocks made by VII MIRACULA studio create the mountain landscape in the spa complex that you see in the photos above. Amusement park that belongs to this resort is also decorated by artificial rocks.
Variants of integrating artificial rocks in landscape and interior design
We use artificial stones to finish the interior of the house, to decorate facades and to create garden sculptures. Authentic look of the art-objects is the matter of utmost importance for VII MIRACULA artists. It is impossible to tell the difference between art-stones created in our studio and natural stones. Our own production technology and building material enable us to create durable, heat and frost- resistant stones.
Art-concrete rocks are resilient to rains, rapid temperature falls and sun rays. These features allow placing rocks both indoors and outdoors.
The service life of our products is unlimited. For years running they can stand without any changes in the appearance. We provide a two-year warranty and a 10-year preferential service for each art-object.
Artificial stones and rockeries made in VII MIRACULA architectural studio are tremendously resistant to changing weather conditions. Our artificial rocks do not have an expiry date. They are more durable than natural stones, since the are not subject to vagaries of nature.
This feature enables our sculptors to install them outdoors without fear of deformation or complete collapse. VII MIRACULA pieces of art are rain, snow, wind, sun rays and frost resistant.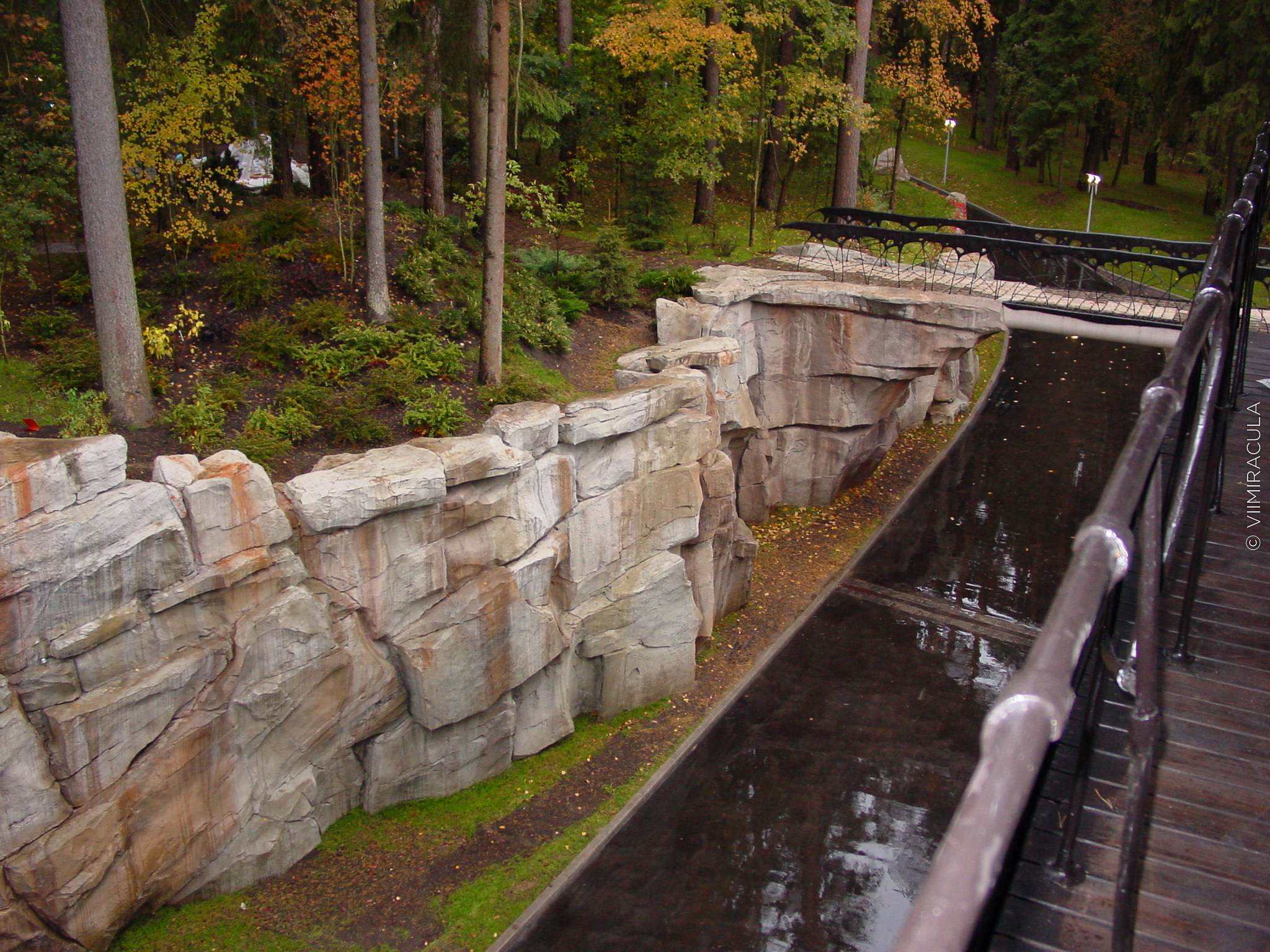 Our own concrete blend for building artificial rocks
A 15-year experience in creating rockeries and artificial rocks entailed the necessity to work out the building material of our own make. We want to be sure about the high quality of our products, so we keep under control every stage of construction : right from kneading the concrete up until the finishing touch of the sculptor. That's why we created architectural concrete of our own brand, putting a special emphasis on high exploitation standards of the initial components, their durability and pliability to processing.
All artificial rocks are built of VII MIRACULA architectural concrete: building material whose formula has been developed for many years. As the time went on architectural concrete of our own make became a separate entity on the market. Now other architectural studios in the field use it, which only proves our recipe to be right.
How artificial rocks are made?
We carefully listen your ideas and wishes and then we embody them in preliminairy drafts, that are approved by both sides before start of engineering calculations. Deadline depends on the scale and complexity of the project, but we always take into account preferences of the clients and are ready to meet their needs.
Constantly repeated manufacturing process guarantees consistent quality. In VII MIRACULA architectural studio all artificial rocks are made according to the single established pattern. During construction works we accurately go through all required stages: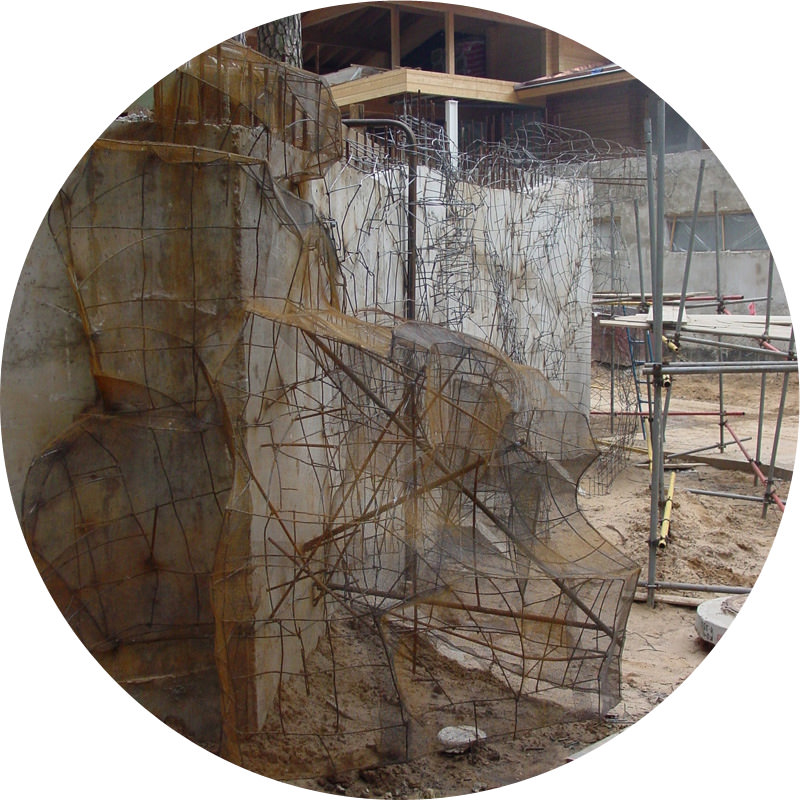 The first stage is the preparation of armoured framework – foundation of the future art-object. It determines further details like the scale and outline of the rock. It also helps to install it in the right place, so that it would make a strong impression on guests.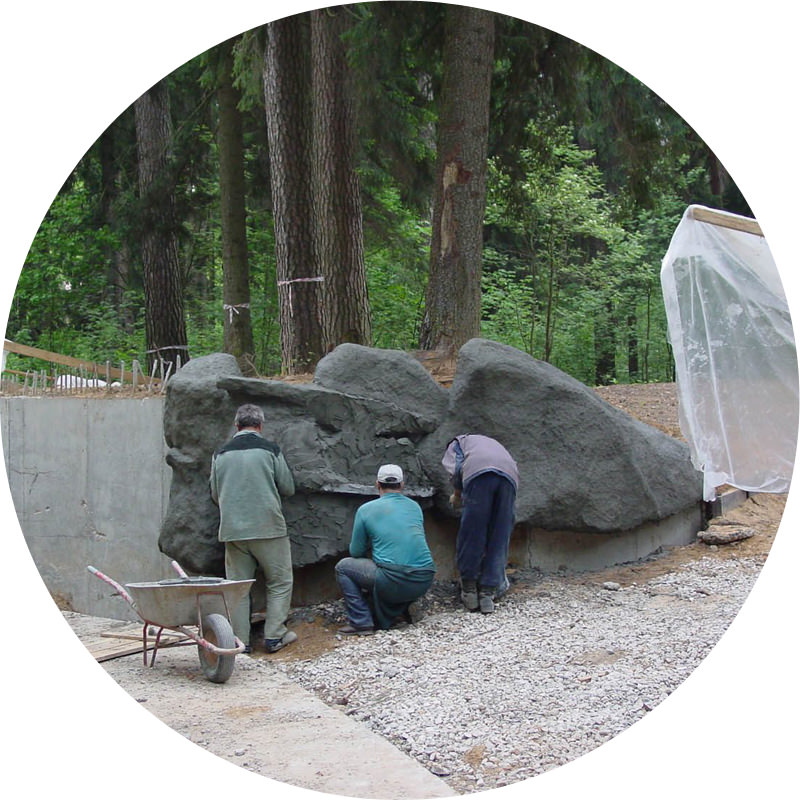 The second stage is covering the framework with the first layer of VII MIRACULA architectural concrete. This is one the most important parts of the entire project as it ensures the durability of the construction.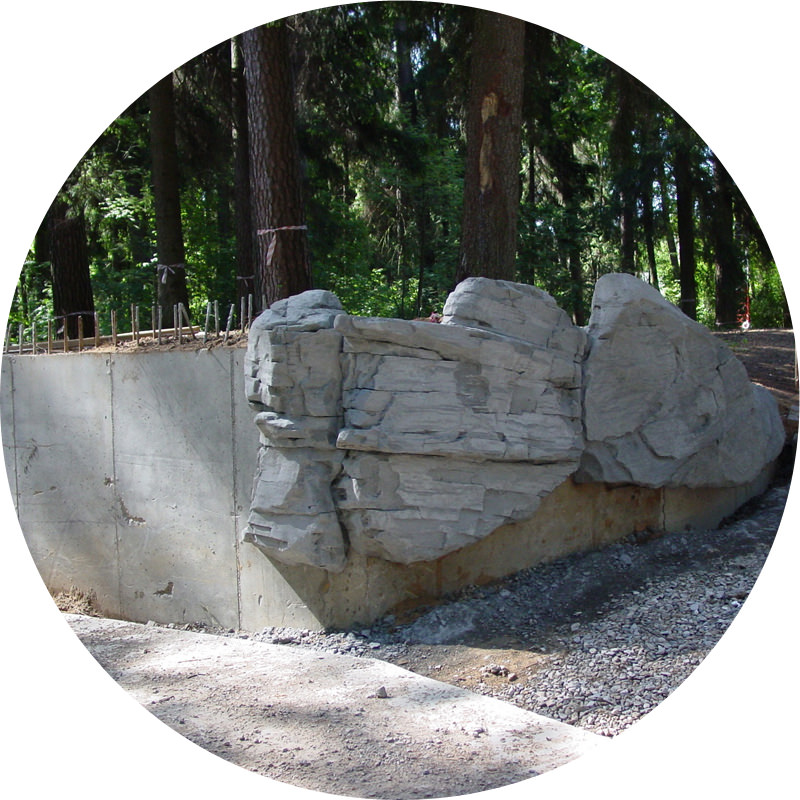 When the concrete is ready for further processing, we move on to the next stage, which is artistic carving on concrete. Our experts in the field turn faceless mass into a real piece of art. They give artificial rocks realistic bends and rifts. If needed, parts of the rock can be polished and we got work of art, that can't be distinguished from natural stones.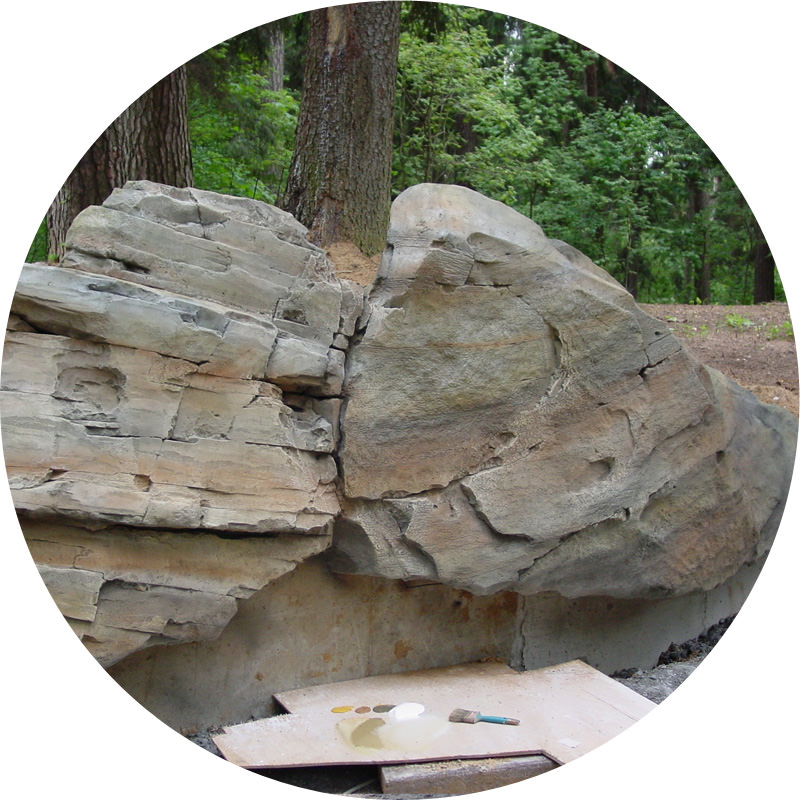 The final stage of production process is applying paints. In terms of color we take into consideration all nuances that a natural stone might have. In the photo you can clearly see that the right side of the stone is darker than the left side. Indeed, the artist noted that the right side is in shade most of the time and reflected it in painting.
These are the very details, that bridge the gap between VII MIRACULA studio artificial stones and natural stones.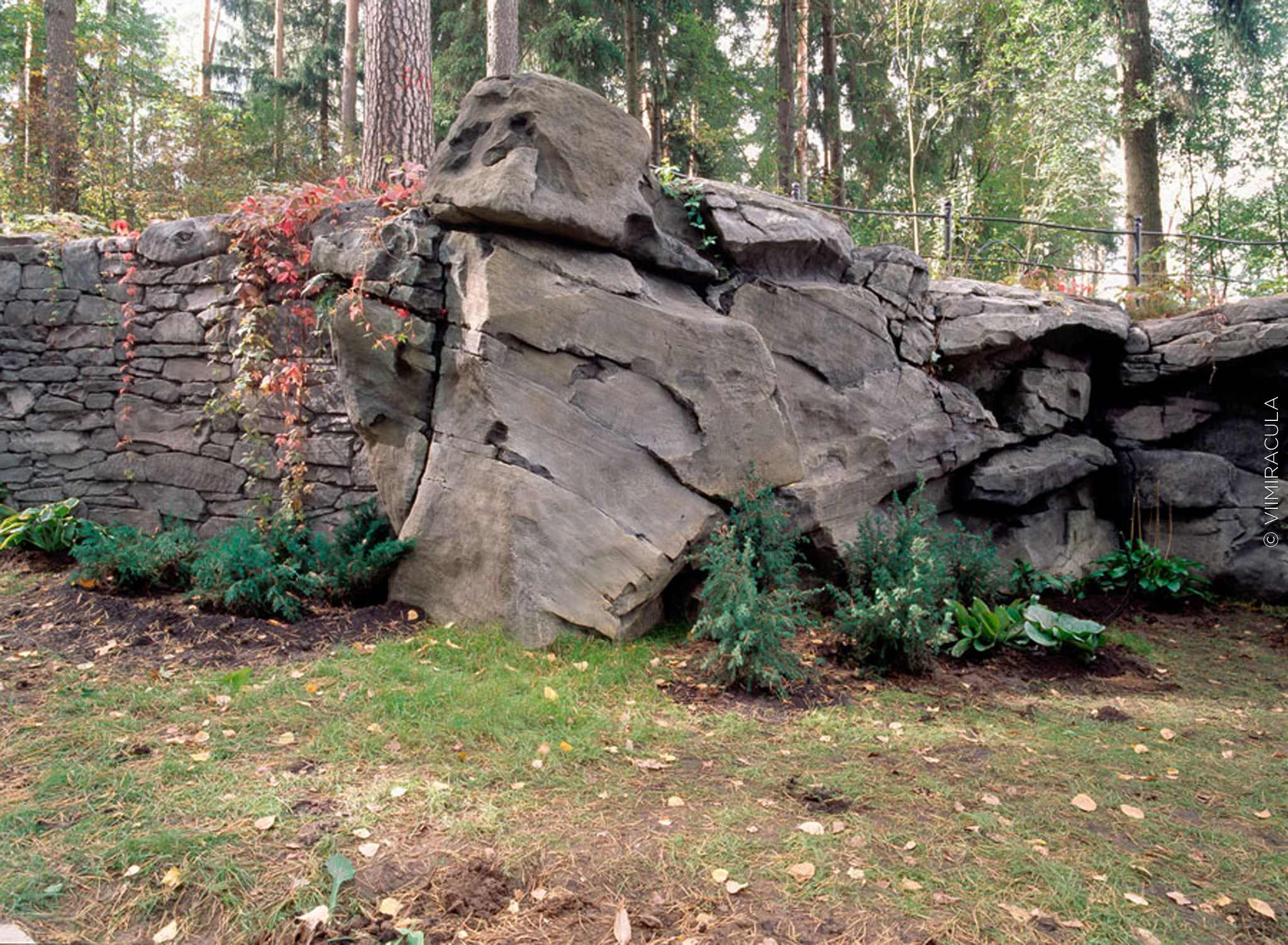 Do you want to ask about your project?