When you order the construction ofwaterfall in our studio, what you get is not just a beautiful art object, but a complex hydraulic construction. Our team of experts include engineers, construction workers, sculptors, who carefully follow every stage of building the waterfall: starting with idea, artistic sketch and engineering project up until the construction, installation of the equipment, artwork and landscaping.
Additional advantages of our building technology:
We don't need construction machines to create art- objects made from artificial stone . It's not necessary to arrange special access roads to place of work. We arrive at the location with required amount of building materials, which do not occupy a lot space and create art-object from scratch.
There are no limitations to variants of creating artificial waterfalls: architectural concrete enables us to embody water facilities of any shape and size. The stone texture and color shade are chosen in accordance with customer's preferences: the stone relief can be the complete imitation of natural stone prevalent in the territory or it can be in tune with the texture of facade finishing or any other option is possible.
The unique feature of objects made from architectural concrete is the possibility of hiding utility systems inside art-objects, including pumps and other engineering equipment. Safe access to utilities is ensured by jib-doors and hatches, that are masked as stones.
Water doesn'twear away artificial stones, plus they don't crack under the influence of atmosphere and rapid temperature falls. The finished construction will stand for decades.
Fitting artificial waterfall in the landscape

The technology of creating artificial stones allows coping a number of natural objects starting with small boulders ending with large-scale stone blocks, from cozy waterfall, that decorates alpine garden up until immense compositions of gigantic rocks in a city park. Artificial waterfalls follow the same rules of construction as natural waterfalls, yet it is possible to adjust the construction to specific features of the territory and surrounding residences and other small architectural elements.
Fitting concrete waterfall in the interiors of a house
Artificial stone is a handy material that can be used not only outdoors, but also indoors. Artificial waterfall can easily become a non-trivial addition to the house interiors like winter garden, swimming pool or any other space.
What materials do we use for building art-objects?

Our sculptors use architectural concrete of our own make. Due to its special composition VII MIRACULA architectural concrete has several distinctive features: high plasticity, viscous material, waterproofness, long period of hardening and high durability of hardened mass. All the above-mentioned characteristics empower our experts to use architectural concrete for creating indoor wall panels with many small details as well as for creating large-scale rock compositions.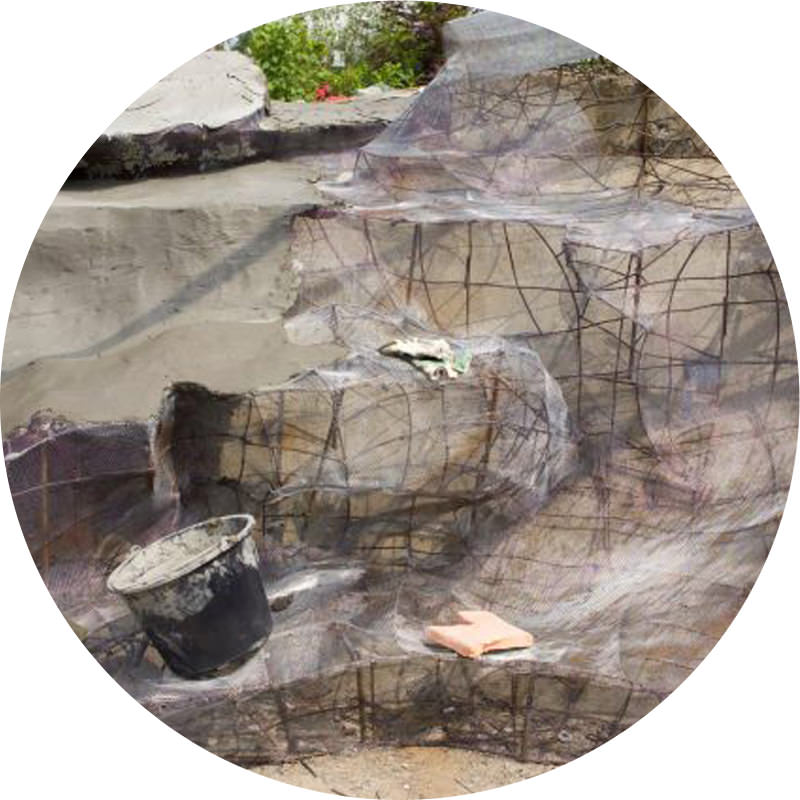 The first stage is building the foundation and installing metal framework, which is a backbone of the future waterfall.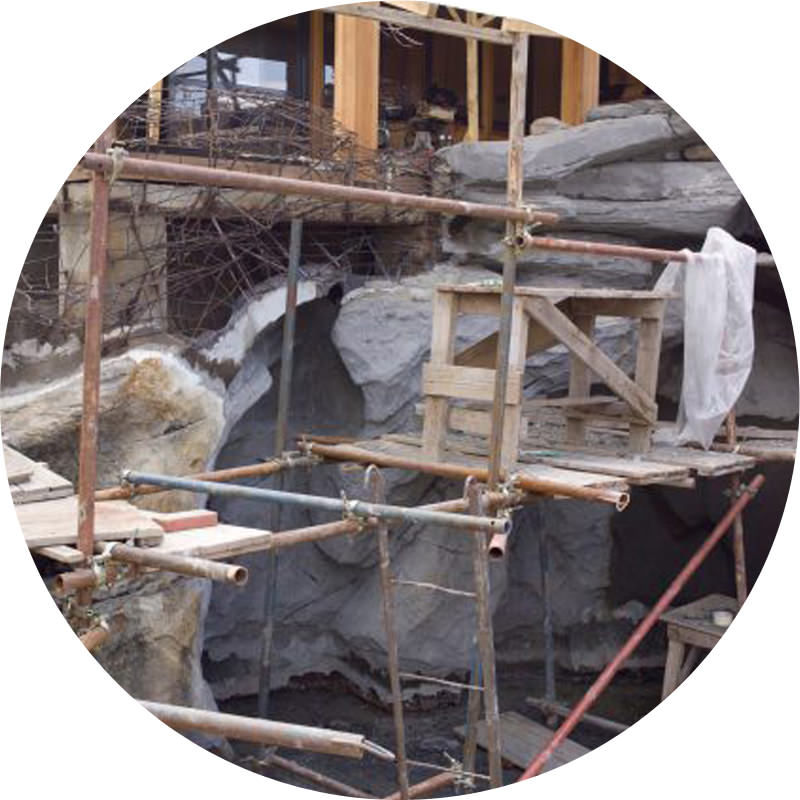 The second stage is covering framework with a layer of architectural concrete, forming the outline of the rock, adjusting the flow of water along the riverbed.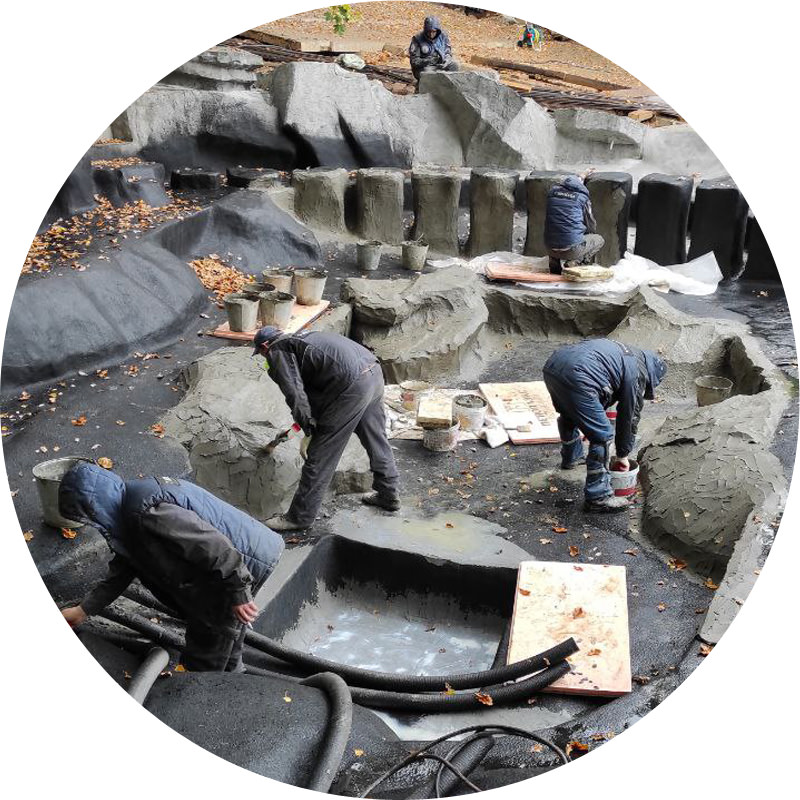 When the basic layer of concrete has dried, areas that will constantly have full contact with water (e.g. the bowl of the pond, riverbed and stones) are covered with waterproof layer. After that the construction is covered with the second layer of concrete that protects waterproof layer from cutting.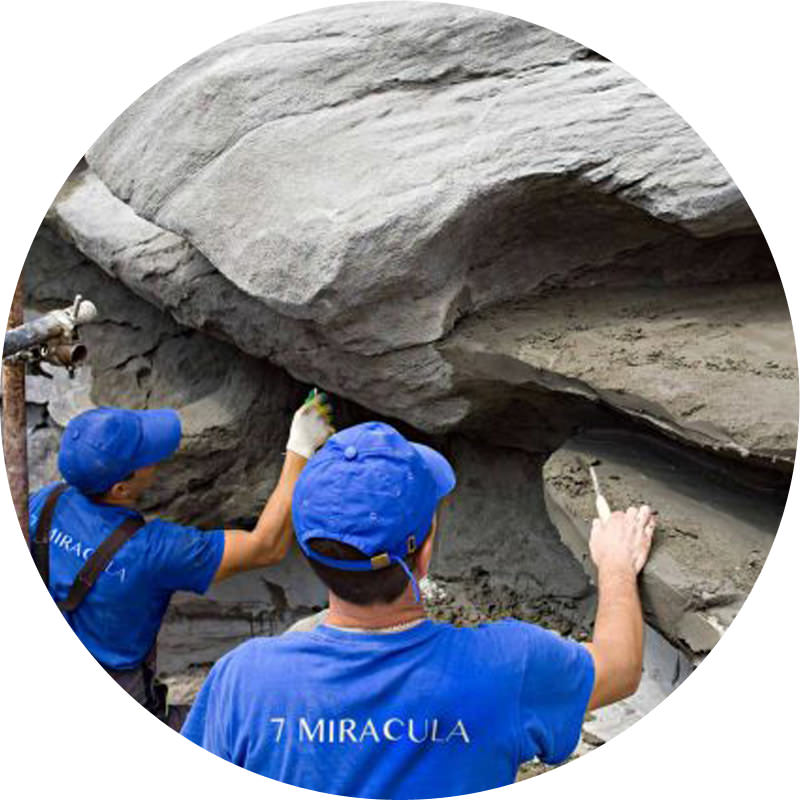 When the protective layer of concrete has dried , the future stone is coated with the third and last layer of architectural concrete aimed for artistic carving. It is at this stage that the rock acquires its final shape, size and texture. Then paints are applied.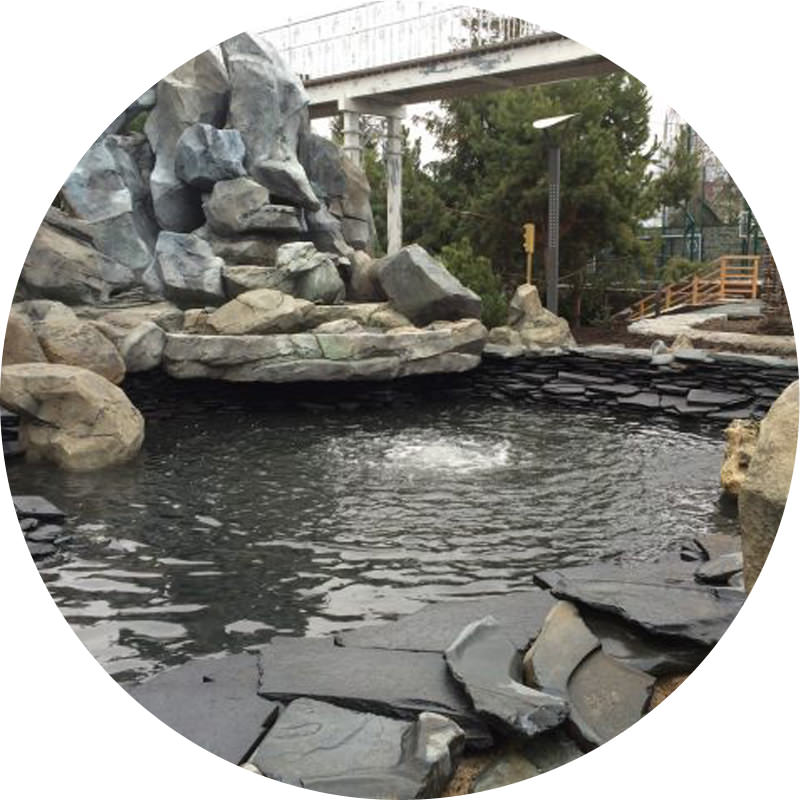 The waterfall is tested and decorated with plants. The composition can be accompanied by a stone bridge, gazebo or a stone path.
Waterfalls made in 7miracula studio are practically eternal. However , should any mechanical damage occur within 2-year period, our experts will restore the surface under warranty. For the next 10 years, the art-object is on preferential service. The only thing that waterfalls require is periodic cleaning, winter conservation and scheduled replacement of equipment. We provide these services, the customer pays only for consumables.
Do you want to ask about your project?